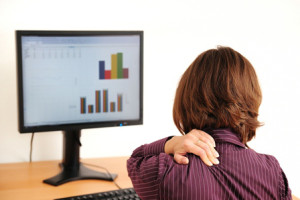 Is your body physically fatigued after working at your computer for long hours?  Do you get headaches from staring at your monitor for long periods of time?  Do you have wrist/hand tension from repetitively keying and mousing?  Do you have neck/shoulder or back/hip/leg discomfort from sitting all day?
If you are experiencing workplace discomfort issues, we suggest that you speak with your department manager, human resources manager, or the person in your company who is responsible for occupational health, employee safety, or ergonomics. After discussing your workplace challenges, ask what can be done to help you resolve these challenges.  Many of our clients contract our services to work in conjunction with their efforts to provide safer workplaces.
THERE IS A BETTER WAY TO WORK!
CESSI's ergonomic professionals help individuals overcome these workplace issues by identifying workplace challenges and providing recommendations for more comfortable workplaces.
What we've done to help others:
Assess the set-up of workplace components which can impact people's level of comfort.
Discuss ways to help reduce symptoms of headaches, neck/back discomfort, wrist pain, vision issues and more.
Teach more appropriate seated or standing postures that provide safer work habits.
Recommend appropriate ergonomic solutions if ergonomic equipment is needed to modify workplaces.
Evaluate ergonomic equipment recommended – before it is purchased!